Banana Walnut Bread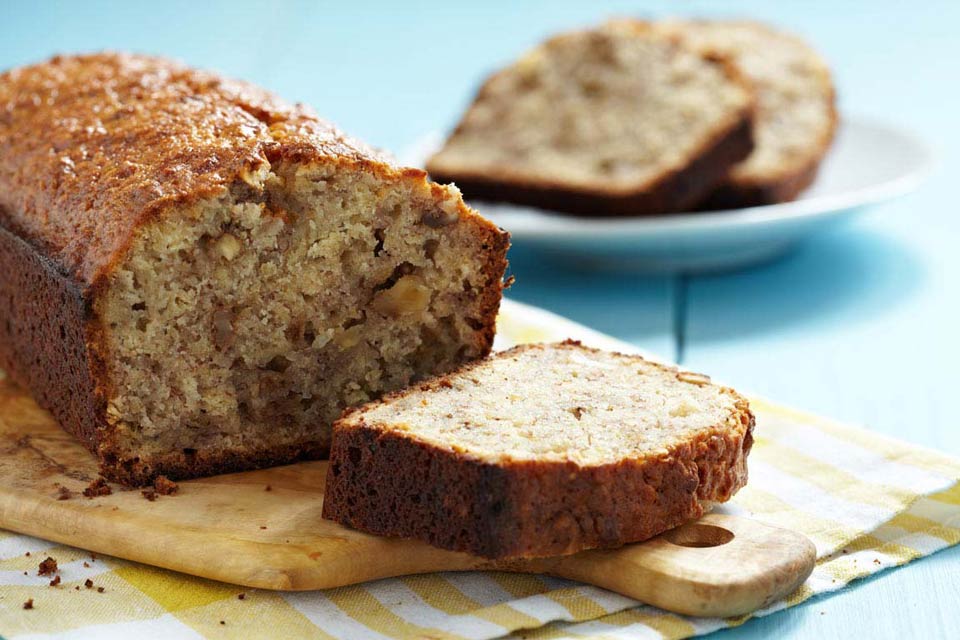 Perfect for a snack between meals, this banana bread is sweet and moist with a scattering of walnuts.
Serves: 12
Ingredients:
2 very ripe large bananas

1/4 teaspoon powdered stevia extract
(or 1 g. packet of Now Stevia Extract)

1/2 teaspoon stevia concentrate

1 tablespoon lemon juice

2 cups whole wheat flour

1/2 teaspoon baking soda

1 teaspoon baking powder

1/4 teaspoon salt

1/3 cup canola oil

1 large egg

1/2 cup plain low-fat yogurt

1 teaspoon real vanilla extract

1/2 cup chopped walnuts
Directions:
Preheat oven to 350º.
Spray 9"x5" loaf pan with non-stick cooking spray.
Mash the bananas in a small bowl and combine with stevia extract, stevia concentrate, and lemon juice. Set aside.
Sift dry ingredients together in a bowl.
Beat the oil and egg together in a mixing bowl until creamy.
Beat in yogurt or buttermilk and the vanilla.
Combine moist ingredients.
Fold the dry ingredients into the wet ingredients, stirring as little as possible. Be careful not to over mix (this can make bread tough).
Gently fold in walnuts.
Pour into loaf pan.
Bake for 50 minutes to 1 hour or until a toothpick comes out clean when inserted into the center of the loaf.
Remove from pan and cool loaf on a rack.
Disclaimer: This website is not intended to replace professional consultation, diagnosis, or treatment by a licensed physician. If you require any medical related advice, contact your physician promptly. Information presented on this website is exclusively of a general reference nature. Do not disregard medical advice or delay treatment as a result of accessing information at this site.