Sweet Vegetarian Chili

Sweet Vegetarian Chili (59)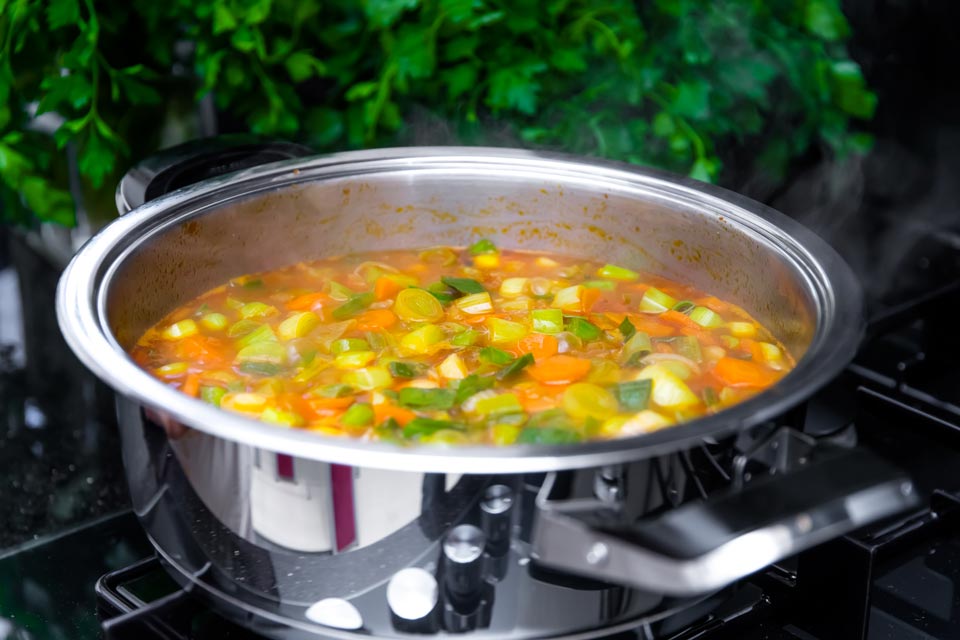 A classic vegetarian chili with a little twist, this thick and hearty soup is loaded with carrots, squash and peppers, then sweetened just slightly for a spicy- sweet finish.(59)
Serves: 8
Total Time:
Ingredients:
2 tablespoons extra-virgin olive oil

2 medium onions, coarsely diced

3 cloves garlic, finely chopped

4 medium green bell peppers, diced into 1-inch pieces

2 cups coarsely diced carrots

4 cups coarsely diced yellow squash

10 cups water

4 cups canned pinto beans

6-ounce can tomato paste

1/2 cup apple cider vinegar

1 jalapeño pepper, finely chopped

3 tablespoons Herbamare, or sea salt

2 tablespoons paprika

2 teaspoons chili powder

1 teaspoon dried oregano

1/4 teaspoon white stevia powder
Directions:
Place the olive oil in a 4-quart pot and preheat over medium-low heat. Add the onions and garlic, and sauté for 2 to 3 minutes, or until the onions are translucent and the garlic is lightly browned.
Add the bell peppers, carrots and squash to the pot, and continue to sauté for 5 to 10 minutes.
Stir in the remaining ingredients. Simmer covered, stirring frequently, for about 2 hours, or until the liquid is somewhat reduced and the chili is thick.
Spoon the hot chili into bowls and serve.
Disclaimer: This website is not intended to replace professional consultation, diagnosis, or treatment by a licensed physician. If you require any medical related advice, contact your physician promptly. Information presented on this website is exclusively of a general reference nature. Do not disregard medical advice or delay treatment as a result of accessing information at this site.