Oatmeal Raisin Cookies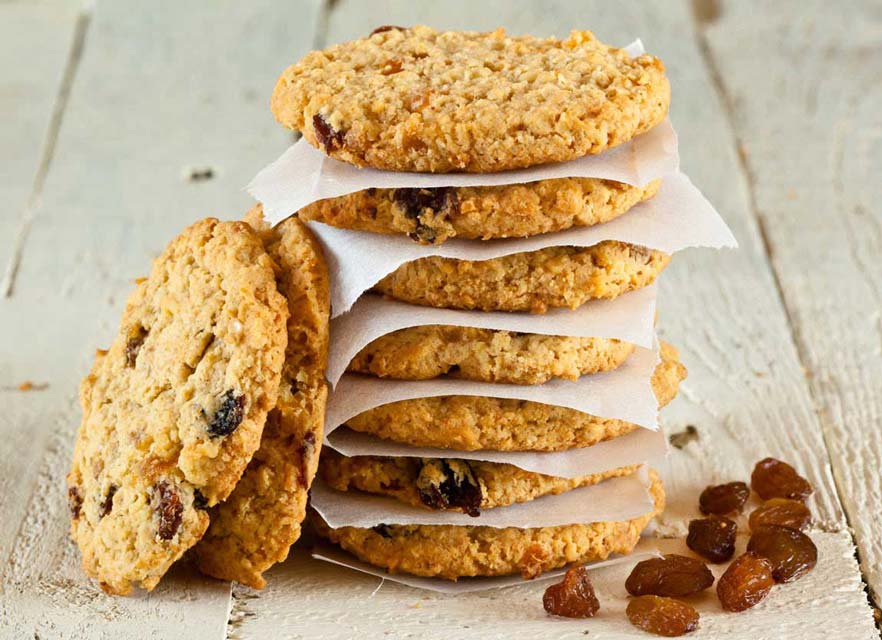 Don't let their name fool you; these oatmeal raisin cookies are far from ordinary. With a hint of maple, crunchy walnuts, stevia, and sweet apple juice, they're likely to disappear fast.
Serves: 18
Ingredients:
1/2 cup raisins, packed

5 ounces unsweetened apple juice concentrate
1/3 cup chopped walnuts

1/2 cup butter or margarine, softened

3/4 teaspoon stevia extract

1/2 teaspoon maple flavoring

1 teaspoon vanilla extract

1 large egg

1/4 cup 1% low fat milk

1 1/2 cups rolled oats
1 1/4 cup whole wheat flour

1 teaspoon baking soda

1 teaspoon cinnamon

1/4 teaspoon salt
Directions:
Preheat oven to 375 degrees.
Spray cookie sheet with non-stick cooking spray.
Simmer raisins and apple juice in a small pan for 15 minutes.
In a mixing bowl, cream together flour and softened butter or margarine.
Stir in the stevia, maple flavoring, vanilla, and slightly beaten egg.
Cream 1/3 of the stewed raisins and all of the juice in a blender. Set the rest of the raisins aside.
Stir raisins and juice into the butter mixture.
Add milk and oats.
Sift together dry ingredients.
Combine wet and dry ingredients.
Add the rest of the raisins and walnuts. Be careful not to over mix (this can make cookies tough).
Drop by teaspoonfuls onto cookie sheet.
Bake 13-15 minutes.
Disclaimer: This website is not intended to replace professional consultation, diagnosis, or treatment by a licensed physician. If you require any medical related advice, contact your physician promptly. Information presented on this website is exclusively of a general reference nature. Do not disregard medical advice or delay treatment as a result of accessing information at this site.