Sweet and Sour Pork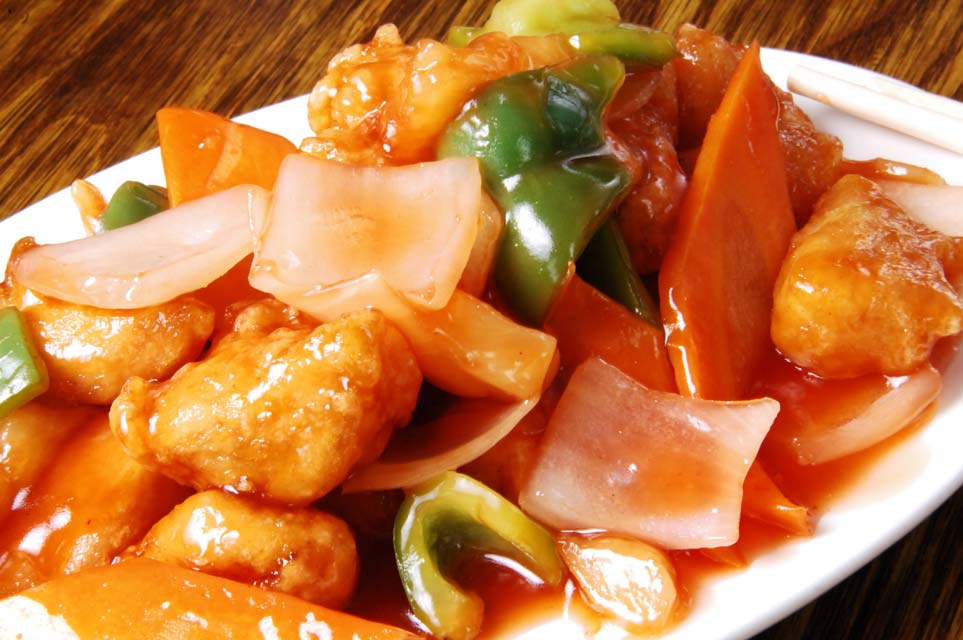 One of America's favorite Chinese dishes, Sweet and Sour Pork is a savory-sweet entreé best served hot atop a bed of steamed white rice. Avoid a refined-sugar-overload with this stevia recipe that incorporates juicy pineapple and spicy ginger.
Serves: 11 one-cup servings
Total Time:
Ingredients:
3 tablespoons cornstarch

3 tablespoons cold water

1/2 cup rice vinegar (unsweetened)

1/2 cup Kikkoman Lite Soy Sauce

1 cup tomato sauce

1 can (14 oz.) fat free chicken broth

1/4 teaspoon stevia powder, or to taste

1/4 teaspoon sea salt

1 tablespoon canola oil, divided

1 large onion, chopped

1 large green bell pepper, chopped

1 large carrot, sliced on the diagonal

2 pounds boneless pork sirloin, 1 inch cubes with visible fat removed

1 teaspoon ground ginger, ground

1 fresh pineapple, peeled and chopped (about 2 lbs)

1 tablespoon ginger root, minced
COOK'S NOTE: Most stir fry techniques begin by fully preparing and combining all foods that will be cooked together before you cook anything. This is because the cooking happens quickly and at a high temperature that you won't have time to do much else.
Directions:
In a small bowl combine vinegar, soy sauce, tomato sauce, chicken broth and stevia powder. Mix well.
In a small cup combine cornstarch and cold water. Mix well and then add to the other liquids. Set aside.
In another bowl combine pork, ginger root, salt and ginger powder. Set aside.
In a third bowl combine onion, carrots and green pepper.
Heat a large wok, cast iron skillet or nonstick skillet over medium-high to high heat.
Add 1/2 tablespoon of oil to the hot pan. When it starts to look shimmery (about 15 to 30 seconds) add onion, bell pepper and carrot and cook, stirring constantly, for about 3-4 minutes or until tender-crisp.
Remove vegetables from the pan.
Add the other 1/2 tablespoon oil to the skillet. Then add the seasoned pork, stirring constantly.
Continue to stir fry until pork is fully cooked, 5-8 minutes.
Reduce heat to medium. Stir liquid mixture to blend cornstarch that settled to the bottom. Immediately pour over the pork, stirring constantly.
Bring to a boil and continue to cook for 1 minute.
Add the vegetables and pineapple.
Heat through.
TIP: Tastes great served over brown rice or stir-fried broccoli slaw.
Disclaimer: This website is not intended to replace professional consultation, diagnosis, or treatment by a licensed physician. If you require any medical related advice, contact your physician promptly. Information presented on this website is exclusively of a general reference nature. Do not disregard medical advice or delay treatment as a result of accessing information at this site.